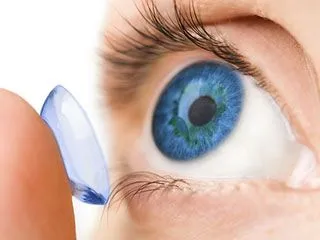 What Are Contact Lenses?
A contact lens is made out of a breathable plastic polymer and is worn directly on the cornea of the eye to correct a person's vision. There are hundreds of different types of contact lenses. The three main categories are: Soft, Gas Permeable, and Hybrid. One of our optometrists will discuss which type of contact lens is better for your prescription and for your particular needs.

Contact lenses are considered medical devices. Contact lenses are available only by prescriptions from an eye doctor. Contact lens prescriptions are valid for exactly one year (per Nevada law). Please be aware that contact lens prescriptions are not the same as an eyeglass prescription. Contact lenses must be custom fit for each person. There are several reasons for this. First, the size, shape, and material of a contact lens must be determined based on your eyes. The proper size, shape, and material will provide for the optimal health of your cornea as well as maximum wearing comfort. Next, the specific power of your contact lens is determined so that the best possible vision is achieved.
How Do I Get Started?
The first step is to have a complete eye exam in order to determine your refractive error (amount of near-sightedness, farsightedness and / or astigmatism present) and to check the health of your eyes. The next step will be to discuss with Dr. Lyons or Dr. Brewer which type of contacts will best suit your needs. It is important to let her know how you will be using your eyes while wearing the contact lenses (playing sports, reading books, doing computer work, gardening, etc.). This information, along with the clinical data obtained from your complete exam, will enable her to decide which lenses to pursue in your prescription.
What to Expect at Your Fitting
At the contact lens fitting, Dr. Lyons or Dr. Brewer will evaluate contact lenses on your eyes to be sure they fit well and provide acceptable vision. When a satisfactory lens if found, a technician will guide you through the process of applying and removing your contact lenses. The technician will also show you how to clean and care for your lenses.

Depending on the lens type, a follow up visit may be scheduled. At this visit, we will make sure that your eyes are responding well to the fit and material of the lenses and that your prescription is accurate. You will then be given the opportunity to purchase a supply of lenses for the year.
What Else Do I Need to Know?
• Multiple visits are often needed to achieve a proper fit. This is especially true for bifocal, toric and custom fittings
• You should always have an updated pair of eyeglasses and prescription sunglasses - even if you plan to wear contact lenses most of the time.
• Some specialty lenses have to be manufactured and may take up to two weeks to come in.
• Nevada law states that contact lens prescriptions expire after one year. In order to renew your contact lens prescription every year, a contact lens evaluation is required in addition to your eye exam every year.
Improper Lens Wear
Please remember to take care of your eyes. Improper contact lens wear can result in serious eye infections and painful inflammatory reactions. These problems can cause corneal scarring and possible vision loss. Improper lens wear includes over-wearing the lenses, failure to replace the lenses in a timely fashion and improper cleaning of the lenses. Rest assured, we will instruct you in detail how to prevent these occurrences.